Almond crusted salmon is one of those dishes I think definitely deserves some company (both for creating and enjoying). Chit-chatting while prepping takes the arduous task of grating the lemon, chopping the parsley and prepping this meal much more sane. Unless, of course you enjoy being a sou chef. Some actually do. My husband finds it quite peaceful and relaxing. As for me, that perhaps is not my  best skill or zen practice. But I enjoy this dish so much, I am willing to sacrifice a little of my time. And with some good music, I can dance and sing through it all. And if I've got a cooking buddy, I'm all the merrier.
Almond Crusted Salmon with lemon and parsley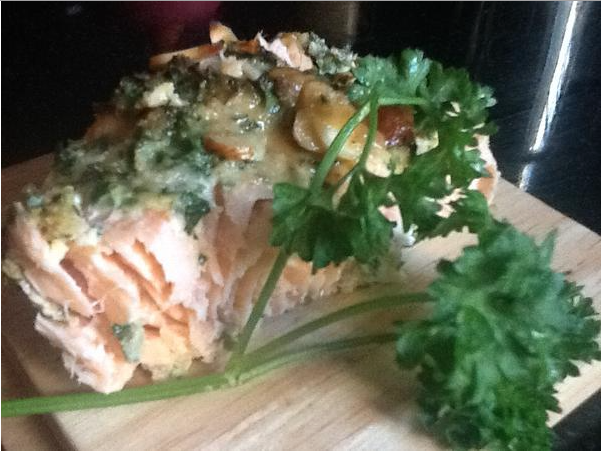 Almond Crusted Salmon with Lemon and Parsley
Ingredients
½ cup sliced almonds
½ cup chopped parsley
1 lemon peel grated finely
pinch of pepper
pinch of sea salt
flour
2-3 egg whites
4 (4 oz) salmon filets
1 Tbsp olive oil
Instructions
Preheat oven to 425ºF
Wash and pat dry salmon filets, then set aside.
Grate lemon peel and mix into chopped parsley with sea salt and pepper.
Place other ingredients separately in bowls: egg whites, flour, sliced almonds, flour.
Dip salmon into flour, dredge into egg whites, dip into parsley salt, pepper and lemon peel mixture, Place onto a sheet and sprinkle with sliced almonds.
Do the same for each filet.
Baked in oven for 20-25 minutes. Enjoy!
Nutrition Information
Calories:
220
Fat:
14g
Sugar:
0g
Sodium:
55mg
Fiber:
1g
Protein:
21g
Cholesterol:
65mg