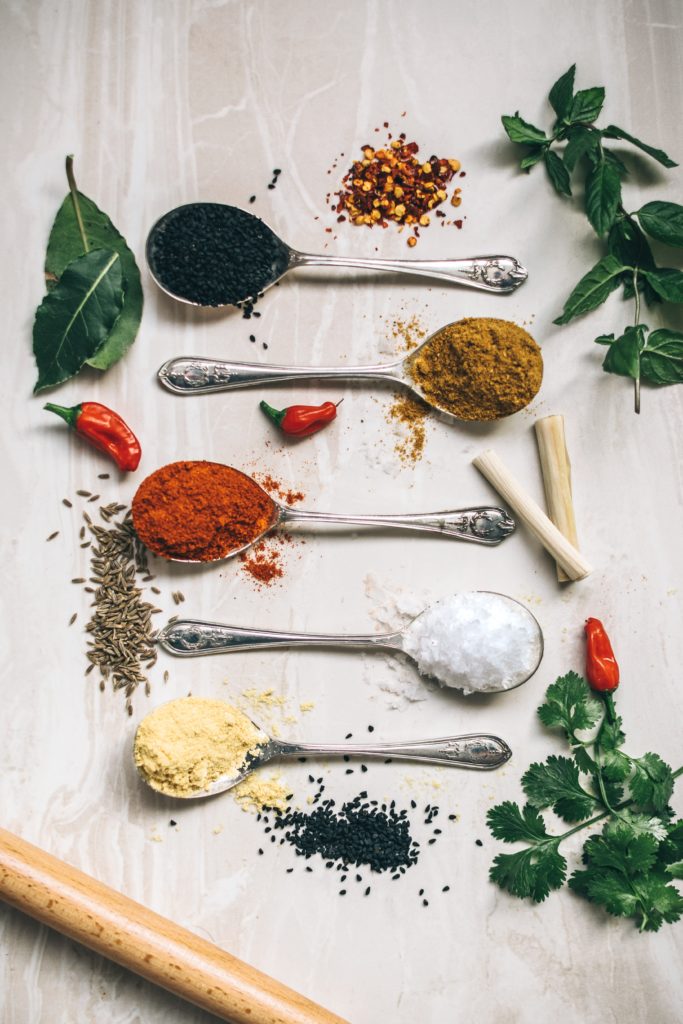 Foods often taste better when seasoned and they are likely to be more satisfying, too. And you don't have to rely on the salt shaker to bump up the flavor. With these three tasty do-it-yourself spice blends, you can make use of the spices you already have stocked while keeping your sodium in check.
Got a favorite spice blend? Relying on pre-packaged mixtures is not always the best idea. For starters, many of this mixes contain excess sodium and/or more sugars and additives than you may think. And while you may find a brand/type of product with just a simple blend of herbs and spices (and minimal sodium/sugar), you can simply make your own spice blends by using what you already have stalked in your cupboard. Take taco seasonings for example, they can contain as much as 600 mg sodium per Tablespoon. How about that miso. One brand I recently checked out has as much as 810 mg sodium per serving. So check out these ways to Replace your Salt with Lemon and a Variety of Herbs.
These Easy-to-Make Spice Blends will Pack in Flavor
without Excess Sodium
Just Mix and Seal and they'll be ready when you need them. Each blend makes about 1/4 – 1/2 cup, and a little goes a long way in terms of flavor so you won't be getting much sodium. If you are using fresh lemon zest or ginger, refrigerate. 
Taco Seasoning
• 4 tablespoons chili powder
• 2 teaspoons cumin
• 1 teaspoon oregano
• 1 teaspoon garlic powder
• 1 teaspoon onion powder
• 1 tablespoon no-calorie sweetener (I used Swerve made with Erythritol) or 1 tsp sugar
• 1/4 teaspoon sea salt
Suggestions for Use: While this is perfect for your taco meat, it's also delicious for seasoned beans, spicing up that mayo for a zesty sandwich spread and sprinkling on avocado. And adds a delicious flavorful zest to my One Sheet Veggie Fajitas with Squash Fries
Lemon Sesame Thyme (Zaatar)
• 4 Tablespoons of Thyme
• 3 teaspoons sesame seed
• 2 Tablespoons lemon zest (from the peel of fresh lemon) – or use Mrs.Dash's Lemon Pepper seasoning – salt-free
• 1/4 tsp salt
Suggestions for Use: This is a great seasoning for fish or wonderful on toast or pita with a drizzle of olive oil and is delightful seasoning for roasted chicken. I sprinkle this on almost anything I can find, including hummus. Try it sprinkled over this Lemon Ricotta Frittata.
Asian Inspired Ginger-Garlic
• 2 teaspoon Garlic
• 4 teaspoons PB2 (powdered Peanut butter)
• 1 teaspoon Ginger, fresh, grated
• 1/16 teaspoon of salt
Optional: 1 tsp lemon zest (from peel of fresh lemon) or 1 tsp Mrs. Dash's Lemon Pepper Seasoning – salt-free
Suggestions for Use: This is perfect for any Asian-inspired dish, from stir-fried veggies and "fried rice" to noodle soups. Tip: A little oil and a hint of low sodium soy sauce picks up the flavors nicely. So as you would stir-fry, add a little oil to pan, then seasonings and then pack in those veggies to coat well — delicious!
Q: Got a special spice-blend (packaged or homemade)?
Feel free to share, and how you enjoy using it. And if you like,
I can come up with a recipe for a do-it-yourself blend.