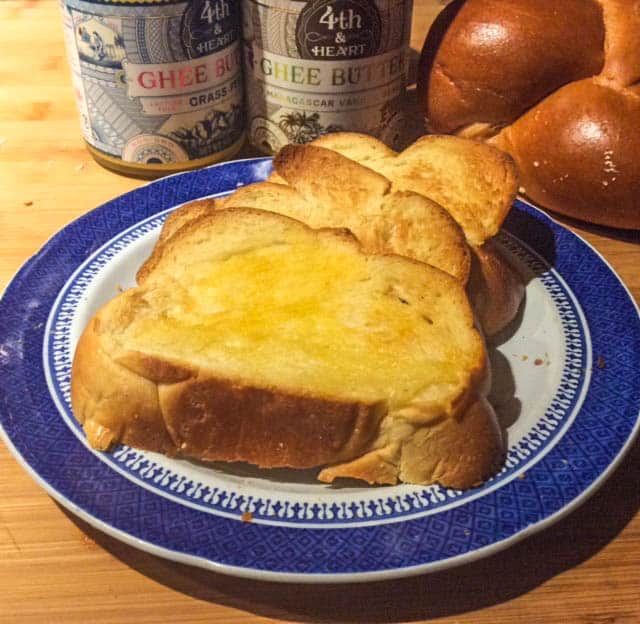 Disclaimer: I received product from 4th & Heart for review. I did not receive any compensation for this posting. Opinions are my own.
Until now, Ghee was simply butter with less liquid – "Clarified" — a more intense version of butter I've rarely had except on the occasional dining on Indian cuisine (and this was not often because the most amazing Indian food is in London and although we had a habit of traveling there once yearly, since we had kids we've only gone twice).
I admit that I have seen huge jars sold at Indian Sweets & Spices shop on Los Feliz – just minutes from my house. The food there is quite good, just not the same as being in London. And we just don't go there that often. We would sometimes buy a dessert and/or two or three entrees to share from the deli section. Then we would shop the market and check out the interesting finds. I've always been tempted to buy the Ghee. But alas, never have. The jars of this "butter" are so very intensely yellow and look much more of the consistency of say a coconut oil, than butter.
I was lucky enough to receive 3 jars of Ghee from Fourth & Heart. One called Grass Fed with a nicely salty appeal; and the other unique flavors – California Garlic and Madagascar Vanilla Bean, which I couldn't wait to try in a dessert. The first thing I did was to try the Grass Fed Ghee on toast, this seemed like a logical way to try it. I only needed but a teaspoon, the flavor was so intense. I also tried it on baked potato spruce up another bland starchy item. If I had thought about it, a little bit on steamed rice would have been nice as well.
Ghee for a Savory Dish
It was a while before I actually got the nerve to create a recipe using a bit of ghee and this one I simply choose to make a modified version of chicken pot pie using Mirepoix, chopped chicken, seasoning, and of course a bit of ghee (the California Garlic flavor) to make a simple gravy. I only used a Tbsp with a couple Tbsp of flour to make a roux, then slowly added low sodium chicken broth to thin and develop the gravy to the consistency I desired. I think the Ghee made this a richer gravy and it was a way to get acquainted with the product besides just as a spread on bread, which of course was simply delicious!
Ghee in Dessert
Now I was itching to make something dessert-like and well, granola has always been a treat to me! So with my own date paste (a puree of 8 dates plus 1/2 cup of water), 1 Tbsp Maple Syrup and one Tablespoon of the Madagascar Vanilla Bean ghee (melted), I created my liquid base to coat my oats before toasting over low heat in the oven. It was simple, but yummy. Here it is below with some toasted coconut mixed in:
Overall, I'd say it's a nice product to keep on hand:
RBST Hormone-Free
No artificial color or flavor.
A natural source of Omega Fatty Acids and Vitamin K.
A little goes a long way in flavor.
It's rich and flavorful.
It has a high smoke point and it lasts unrefrigerated up to 3 months.


And – something close to my own heart (as I'm a devoted yogi), 

A portion of the proceeds goes to Yoga Gives Back


Did you know?: the

Heart

is the

4th Chakra

– hence their namesake "4th&Heart"
For more info. on this product and it's varieties, visit: fourthandheart.com