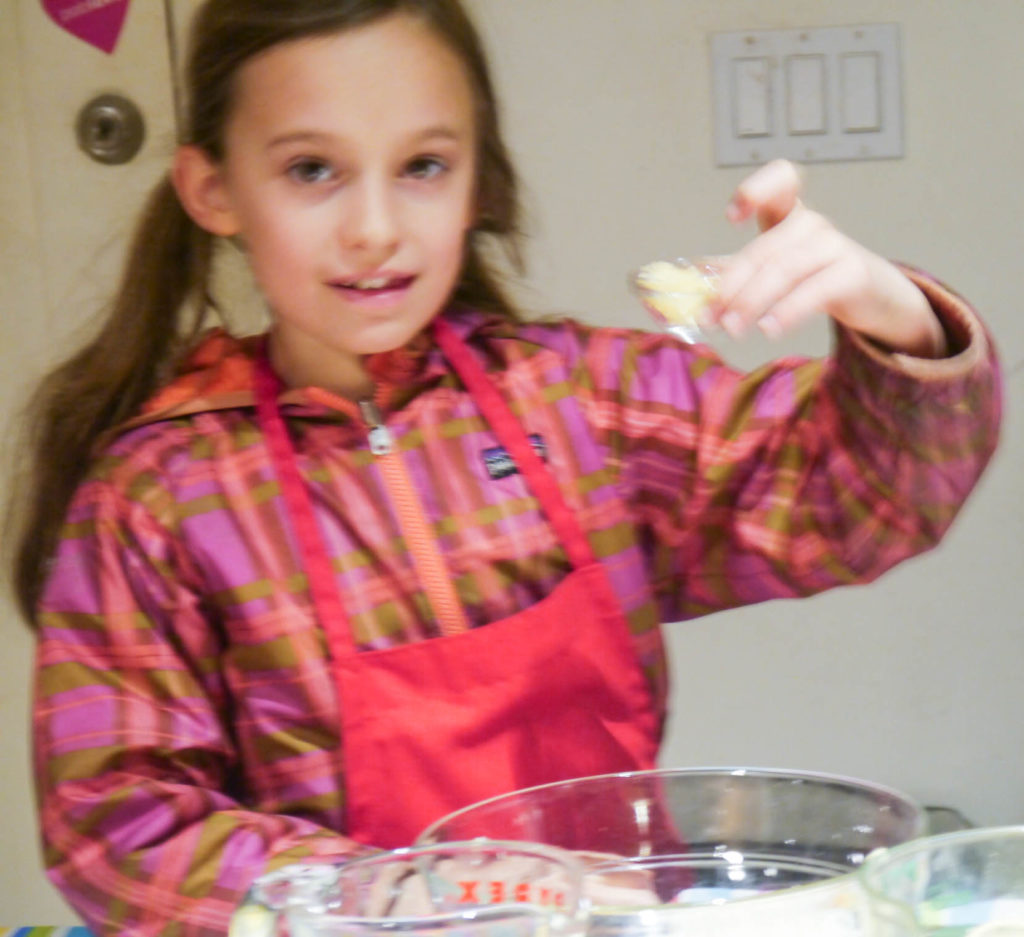 Raising healthy eaters is not always a simple task. But if you want them to grow to love good-for-you foods, you've gotta lead by example. Kitchen time with your kids is not only health-worthy, it helps develop life-long skills beyond the plate. I was delighted to be interviewed by Jodi Danen on this very subject. Check out my story on Danen's new series on raising healthy eaters at Create Kids Club.
Let's face it, we'd love to have our kids in the kitchen because an extra hand or two could be useful. But when it comes to young kids, there is often more mess than progress (and part of the mess is fun!). So why include your kids in the kitchen? Because any interest in food can lead to meaningful knowledge and skill: from nutrition to culture; food science to building fine motor skills; and so much more. And as a dietitian, I can tell you that my kids follow more by my lead than by dictation/"rule".
I don't force my girls to be "healthy eaters". That being said, I have a few said rules, but they are quite flexible. It is to help my kids develop a sense of intuitive need, rather than relying solely on external desire. Of course we want to enjoy our foods – the tastes, textures, blends of sweet & savory, but by exploring foods through the senses, trying new things and listening to cues of satiety, we are better able to maintain good health and that process can start at a young age.
TAKE A BITE (to assess flavor, texture, etc). For starters, I do expect that my girls at least take a bite to see if they might like something. If the answer is "no" than fine. Maybe they aren't ready for those green collards or perhaps the presentation is not "their bag". Since their are so many ways off preparing a said food, that leaves room to experiment and try it sautéed, rather than say "boiled" or served up less seasoned (or more).
START WITH ONE SERVING (and let them decide if they want more). If they like something, they can always ask for more (or serve themselves a second helping). Now this doesn't mean they go hog-wild on cookies, cakes and donuts. I generally make enough for seconds or leftovers so a side of creamed spinach or scalloped potatoes or even marinated baked salmon is available.
CLEAR YOUR TRAY (not your plate). This is by all means, not "Finish your food, there are starving kids in Africa". Rather, when they are full, and they get to decide, my girls help to clean up by discarding remainders on their plate and bringing the dishes to the sink. For more helping tips and keeping the kitchen clean, even with youngsters, check out my 8 Essential Kitchen Hacks for Keeping it Clean and Fun!
When it comes to my lead, it begins in the kitchen. I find that letting my girls see the process from beginning to completion gives them sense of accomplishment. It also builds more interest in certain said foods (i.e.: leafy greens, root veggies). But it also inspires curiousity in "food science," develops math/measuring skills, exercises their reading/memory and coordination skills. From cookies to kale; the exploration is never ending. Whether sweet or savory, the culinary adventure is learning, growth and nutritional all the while.